On Tuesday, 8 November 2022 in the context of the initiative "The groups of SKEL The AI Lab are presenting" the team ARTIFACT-Artificial Intelligence for Culture presented its vision & objectives as well as the activities scheduled and implemented so far.
Lida Arnellou, the Post-Doctoral researcher of the AI Lab, made a short introduction talking about the area where ARTIFACT operates in, which is the intersection of Artificial Intelligence (AI) and Culture, and the projects representing these two fields. The ARTIFACT approaches the Artificial Intelligence field through the VAST H2020 Project regarding the creation of advanced digitization for the Intangible Cultural Heritage and the Culture through the creation of cultural experiences initiated by the project "The House of Greek Ideas". The ARTIFACT team aspires to create a physical public forum regarding the ideas and values emerging from Ancient Greek Philosophy.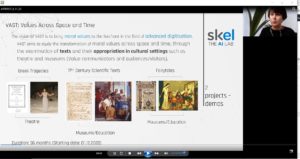 Afterwards a more detailed description of the innovative Exhibition, being prepared and temporarily named, "The House of Greek Ideas" was followed. Using state-of-the-art technologies, the exhibition aims to create a high-quality experience for the visitors and to enable the exploration of philosophical questions in a pleasant, simple and interactive way. The "The House of Greek Ideas" will be hosted at the first level of the Athens Conservatory, and the first pilot exhibitions that will be created during the project will concern the concept of Democracy and the relevant philosophical ideas.
Touring between different spaces, the Motivation space, the Exploration space and the Reflection space, visitors will be guided to participate in mental exercises, dialogue and problem solving experiencing the critical questions posed by the ancient Greek Philosophers and reflect on this experience. Through the exhibits visitors will get in touch with the different schools of philosophical thought, with demagogic practices with the Aristotelian method for teaching and will be invited to participate in groups, in the process of judgement.  Finally, visitors will have the chance to consider on their experience and to face a dilemma.
Through these pilot exhibitions visitors will experience a simulation of Democracy since the decisions taken on a group level during the tour will determine the final experience.
To get more info regarding the "House of Greek Ideas" go to the link https://www.houseofclassicalgreekideas.com/.